180° View Half Dome Safety Mirrors
Half Dome Mirrors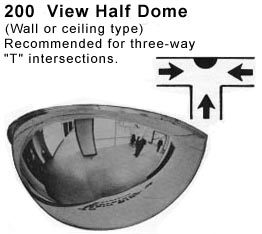 Blind Corners
Aisles and Corridors
Showroom and Store Surveillance
Accident Prevention
Store Theft Prevention
Available in Acrylic
Half Dome Mirrors are made for indoor use. We do not recomed half dome mirrors for outside.
Use the Steel Backed for applications where porous surfaces are prohibited.
Fully assembled with mounting bracket
Shatterproof (acrylic)
HALF DOME LENS: Half dome mirrors are made to mount flush against a wall or similar surface to provide viewing around a three-way intersection. They have a 3/4" flange around the edge. The exact flange size may vary depending on the size and style of dome.
Half Dome Backing




1) Lens Only

No Backing - Less rigidity. For inside use only. Easy Flange Mounting.

2) Foam Lined

No Backing - Lens is coated in foam for rigidity. For inside use only.

3) Hard-Board

Masonite Board - For inside or covered & protected outside use. Loop Brackets on the back for screw or hook mounting.

4) Galvanized Steel

Non-porous surface for high interior humidity applications - Mounting the same as is the Hardboard Back.
Half Dome Mounts




1) Flange Mount

Attached with screws into ceiling through holes in the flange.
Clips onto drop ceiling tile dividers.

3) Spring Mount

Springs hold mirror onto two hooks screwed into mounting surface behind the mirror.
Click here if you need help deciding which mirror to purchase? - Dome Safety Mirrors
1)
Inside Use Only
- Flange Mount - NO Black Rubber Rim - Lightweight
| | | | |
| --- | --- | --- | --- |
| The picture on the right is of the 9"x9" Half Dome Flange Mounted mirror. This mirror is fastened to a wall through the three holes on the flange. | | | |
| | | |
| --- | --- | --- |
| | ---- Acrylic 180 degree view half dome Flange Mounted Mirror ---- | |
| | The flange mounted domes are very light and easy to install. The lens is shatterproof acrylic with excellent reflective properties. This mirror is a good choice where there is a flat surface where the mirror can easily be attached with screws. The mirror can be attached to a wall or to a ceiling. ( MADE IN THE USA) | |
RP-AV12HL
12

$31.00
$29.00
$27.90
$26.00

RP-AV18HL
18

$52.00
$49.00
$46.80
$44.00

RP-AV26HL
26

$76.50
$73.00
$68.90
$65.00

RP-AV32HL
32

$107.00
$102.00
$96.30
$91.00

RP-AV36HL
36

$132.50
$126.00
$119.30
$113.00
---
2)
Inside Use Only
- POLYCARBONATE - Light weight - High Impact Resistant Polycarbonate - Flange Mount
| | | |
| --- | --- | --- |
| | ---- Flange Mounted Unbreakable Polycarbonate 180 degree view Half Dome ---- | |
| | The flange mounted domes are very light and easy to install. The lens is unbreakable polycarbonate with excellent reflective properties. This mirror is a good choice where there is a flat surface where the mirror can easily be attached with screws. The mirror can be attached to a wall or to a ceiling. ( Distributed in the USA) | |
SA-LX18-180
SA-LX26-180
SA-LX32-180
SA-LX36-180
---
3)
Inside Use Only
- Drop Ceiling Clip-On Mount - Foam Lined for Added Strength - Black Rubber Rim - Light Weight
| | | | |
| --- | --- | --- | --- |
| The picture on the right is showing the drop-ceiling mounting clips. | | | The picture to your left is illustration of the Drop-Ceiling Mounted half dome. |
| | | |
| --- | --- | --- |
| | ---- Acrylic 180 degree view dome Drop-Ceiling Mounted Mirror ---- | |
| | The drop-ceiling mounted, half domes, are made to attach to the metal rail that boarders a typical drop ceiling installation. They are easy to install - the lens is shatterproof acrylic with excellent reflective properties - there is a foam lining to hold the mirror rigid and add strength. The black rubber rim gives the mirror a clean professional look. This mirror is a good choice where there are drop-ceiling tiles and you do not want to but any holes into the wall. There are also holes in the flange, which can be used to fasten the mirror to a wall with screws. ( MADE IN THE USA) | |
AL-H142185F
18

$48.75
$46.00
$43.90
$41.00

AL-H142245F
24

$59.75
$57.00
$53.80
$51.00

AL-H142265F
26

$67.25
$64.00
$60.50
$20.00

AL-H142305F
30

$71.75
$68.00
$64.60
$61.00

AL-H142365F
36

$85.75
$81.00
$77.20
$73.00
---
4)
Inside Use Only
- Wall Mounted "D" Loop Brackets - Hardboard Back (one-side only) - Black Rubber Rim
| | | | |
| --- | --- | --- | --- |
| The picture on the right is a front view of the 18" half dome Hardboard Backed mirror. This mirror is fastened to a wall using the two "D" Loop hooks on the back panel. | | | The picture to your left illustrates how domes are mounted. |
| | | |
| --- | --- | --- |
| | ---- "D" Loop mounting brackets - Acrylic 180 degree view dome ---- | |
| | The Hardboard backed half dome mirrors are more rigid than the flange mounted mirrors and have the Extruded Black rubber rim for a more finished look and added strength. The lens is shatterproof acrylic with excellent reflective properties. This mirror is a good choice where the mirror can easily mounted securely onto a wall but not directly against the ceiling. The Black rim provides a finished professional look. ( MADE IN THE USA) | |
RP-AV12H
12

$40.75
$39.00
$36.70
$35.00

RP-AV18H
18

$62.50
$59.00
$56.30
$53.00

RP-AV26H
26

$102.50
$97.00
$92.30
$87.00

RP-AV32H
32

$137.25
$130.00
$123.50
$117.00

RP-AV36H
36

$169.25
$161.00
$152.30
$144.00
---
5)
Inside/Outside Use
- Galvanized STEEL BACK (one side only) - Black Rubber Rim - "D" Loop mounting brackets
| | | | |
| --- | --- | --- | --- |
| The picture on the right is a Front view of an 18"x9" steel backed half dome mirror. | | | The picture to your left illustrates where the mounting holes are located. |
| | | |
| --- | --- | --- |
| | ---- STEEL BACK - "D" Loop mounting brackets - Acrylic 180 degree view dome---- | |
| | STEEL backed half dome mirrors are more rigid than the flange mounted mirrors and have the Extruded Black rubber rim for a more finished look and added strength. The lens is shatterproof and UV proof acrylic with excellent reflective properties. The steel back can get wet and not damage the back. If there is water, however, it is highly recommended that the mirror is mounted with the open portion of back mounted toward the wall and the steel portion used as a top. This will prevent water from filling up the mirror like a bowel holding water. Other than the backing material, the mirror is the same as the above, hardboard backed mirror.( MADE IN THE USA) | |
RP-AV26HS
26

$112.25
$107.00
$101.00
$95.00

RP-AV32HS
32

$158.25
$150.00
$142.40
$135.00

RP-AV36HS
36

$195.50
$186.00
$176.00
$166.00
---
6)
ALL STEEL HALF DOME MIRRORS
- Polished and Chrome Plated - Flange Mounting Holes
| | | | |
| --- | --- | --- | --- |
| The picture on the right is of the polished steel Dome mirror. NOTE: Picture is of the Full Dome Version. This mirror is fastened to a wall or ceiling through the holes in the flange. | | | |
| | | |
| --- | --- | --- |
| | ---- POLISHED CHROME PLATED STEEL 180 Degree Half Dome - Flange Mounted Mirror ---- | |
| | The Polished steel domes were made for high temperature environments. They are mounted with screws through the holes in the flange. There is no rubber rim or any part of the mirror that will be damaged from moderate heat or caustic conditions. Being all steel, they cannot be broken. (Distributed IN THE USA) | |
SA-PVS9-180
9

$107.00
$102.00
$96.30
$91.00

SA-PVS12-180
12

$120.00
$114.00
$108.00
$102.00

SA-PVS18-180
18

$147.00
$140.00
$132.30
$125.00