UNFRAMED CONVEX LENS for CRAFTS HOBBIES and GENERAL USE
Convex Mirror Lens - Un-framed and no mount.
Used for Framed Mirrors in Entrance Ways and Special Lighting Effects.
Acrylic Mirror is Shatter Proof and Safe.
Glass Mirror Lens is fragile but has a better reflection and is difficult to scratch.
Lens only, no Backing/no Mount.
Quantity Discounts on Box Quantities Available.
Convex Mirror Lens Are Available on no return Special Order. .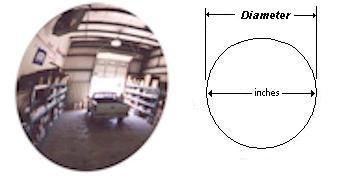 ACRYLIC Convex Mirror Lens Only - No Backing or Mounting Hardware
RP-PL12
12"

$26.00
$25.35
$23.40
$22.10

RP-PL18
18"

$33.00
$32.18
$29.70
$28.05

RP-PL26
26"

$56.00
$54.60
$50.40
$47.60

RP-PL30
30"

$75.00
$73.13
$67.50
$63.75

RP-PL36
36"

$86.00
$83.85
$77.40
$73.10
TWO-WAY TRANSPARENT CONVEX MIRRORS (sometimes called ONE-WAY) for General Use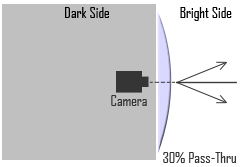 See-through mirror to Hide Cameras or Office-to-Store Surveillance.
See Through Two-Way Round Convex Mirror Lens. Can be used to hide a camera or to create interesting art projects.
Inside second surface Mirror coating.
Can also be used as a concave mirror. (Note: The focal point may vary as much as 1 to 3 inches between mirrors.)
Made from 1/8" mirror-grade acrylic.
Two-Way (See-Through) Round Convex Acrylic Mirror Lens
RP-PL09-ST
9"

$18.00
$17.55
$16.20
$15.30

RP-PL12-ST
12"

$20.00
$19.50
$18.00
$17.00

RP-PL18-ST
18"

$30.00
$29.25
$27.00
$25.50