Custom Cut Two-way or See-through Mirrors
2-Piece Smoked Drop-in Camera Dome for use with Drop Ceiling
1/8 " or 1/4" Mirror-Grade Acrylic coated with a 2-way Mirror Finish.
Looks like a Mirror from the lighted side and a Window from the side with little or no light.
Surveillance for a Show Room or Store from an Office.
Hide a Camera to Monitor Store Activity.
Used in Many Non-Security Related Crafts (see more uses below).
Available in several Standard Sizes: Please use the drop-down boxes below to see the available sizes and pricing.
Less expensive 1/8: thick for up to 24" x 48" areas and 1/4" for larger sizes windows. Note: Because acrylic is flexible, we recommend the 1/4" for larger mirror sizes.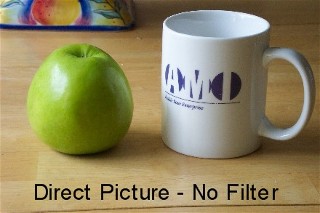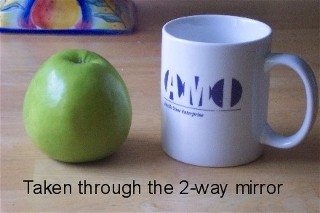 Notes: These pictures were taken with a digital camera in natural sunlight The camera was set for auto focus and automatic light settings. Without automatic light settings, the picture on the right, was less bright. It is important to block the light from around the camera and from the viewing side (same side your taking the picture) of the mirror. If you do not block the light on the camera side, you will end up with a faint image of the reflection of the camera.
1/4" Thick Acrylic See-through Mirror (Unframed) Large Custom Sizes
48" to 60" Height and 24" or Less Width - $ Call for Price
48" to 60" Height and 24" to 48" width - $ Call for Price
60" to 72" Height and 24" to 48" width - $ Call for Price
72" to 96" Height and 24" to 48" width - $ Call for Price (This size is difficult to keep flat resulting in a distorted reflection - if reflection quality is important, then we do not recommended a large 2-way acrylic mirror.)
SHIPPING IS NOT INCLUDED IN THE ABOVE PRICING. The Largest sizes may have to be shipped via Truck Freight and could cost several hundred dollars for shipping. Sizes up to 70 x 36 or 60 x 40, can be shipped via UPS or Fed EX Ground, which has been running around $65.00 to $120.00. Sizes from the 48x36 and down are running from $12.00 to $25.00 to ship.
You must call 770-642-2104 to order these larger sizes.